Close to the Chamrousse resort, Robert's three alpine lakes are located at an altitude of almost 2,000 meters. Completely frozen in winter, they become a popular fishing spot in summer, particularly for their populations of Arctic char and rainbow trout. At the bottom of a cirque basin, the Robert lakes represent 28 hectares of freshwater. The three closely-spaced lakes are separated by thin bands of rock. Dominated by the Grand Sorbier, Petit Van and Grand Van peaks, each of which rises to around 2,500 meters above sea level, the Robert lakes are classified as a Natura 2000 area, offering visitors sumptuous scenery and panoramic views.

The site is also of great botanical interest: it is home to a diverse range of mountain flora, including Alpine columbines and the endemic Cardamine de Plumier, specific to the Belledonne massif. It is also home to the Black Grouse, a bird emblematic of the European Alps. Robert's lakes are popular for ice diving in winter. Other activities to discover around the lakes include this via ferrata, over 300 metres long. At the foot of one of the resort's red ski runs, Robert Lakes is also linked to the Croix de Chamrousse by a chairlift that awaits skiers after their descent. Last but not least, it's a popular place to go hiking, whether for a short family stroll, long walks or even Nordic walking in summer. In winter, hiking trails are accessible with snowshoes, so hiking in the mountains becomes a completely different discipline. Don't hesitate to ask your local tourist office for more information on hiking trails.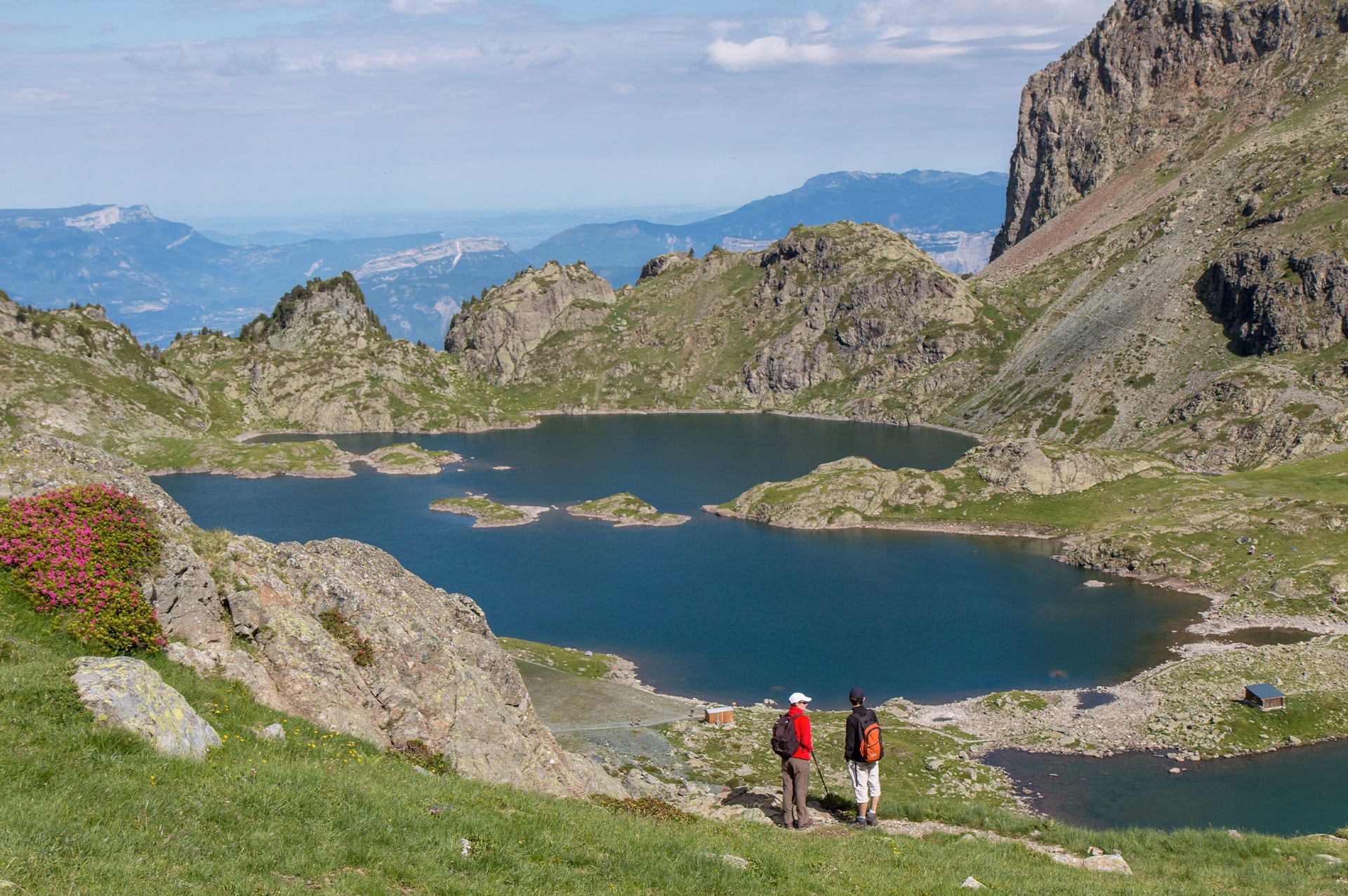 Family and nature
Robert Lakes can be reached via a number of hiking trails, making it an ideal destination for family outings. From short, easy family outings to full-day or multi-day hikes, there's something for everyone. From the Croix de Chamrousse, a short 6 km loop can be completed in 2h30: the trail is ideal for families with young children, starting at the tourist office at the foot of the gondolas, reaching the lake via the Brèche Sud, and returning via the Lac des Pourettes. Another easy but longer option is to start from Roche-Béranger, at the bottom of the slopes, and climb up to Robert Lakes, with a first stage at Achard Lake, a second at Infernet Pass and a third at Lessines Pass. Return via the Croix de Chamrousse, on foot along the slopes. This 12 km loop can be completed in 3h30 or 4 hours if you take your time and take breaks. The gradient is a little steeper, the signposting just as good, but you'll need to keep up the pace on the various slopes and ridges during the traverse. Experienced walkers or long-distance hikers won't have any trouble, and neither will occasional hikers if recovery times are well spaced out.

As you can see, hikers will be spoilt for choice thanks to the many hiking trails. Follow the marked trails, allow yourself a picnic in the heart of nature, take the time to observe the flora and fauna, and don't forget to hidrater. For all walks and hikes, whether in the mid-range or the high mountains, for one day or several days, always remember to carry water in your backpack! If you're tired, stop at the refuges to avoid any accidents. Make sure you're well shod and equipped for the occasion (poles, topo-guides or other equipment if necessary). Don't touch the markers, of course, which are maintained by the French Hiking Federation.